Campsite with water park in the Gorges du Verdon
You cannot imagine staying in Provence Alpes Côte d'Azur sans without enjoying a bit of sunbathing?
Near the Lakes of Sainte-Croix and Var, our campsite gives you the opportunity to stay in a natural and outstanding setting while enjoying a beautiful pool area !
A NEW water park awaits you at the Verdon campsite:
In 2021:
The existing 200m² heated swimming pool
A new 166m² leisure pool with its 9-seater jacuzzi and 4-seater massage bench
Two new paddling pools: one is 40m² for little ones and the other 120m² for older children, both equipped with water games and activities
In 2022:
The opening of 4 slides
A covered leisure pool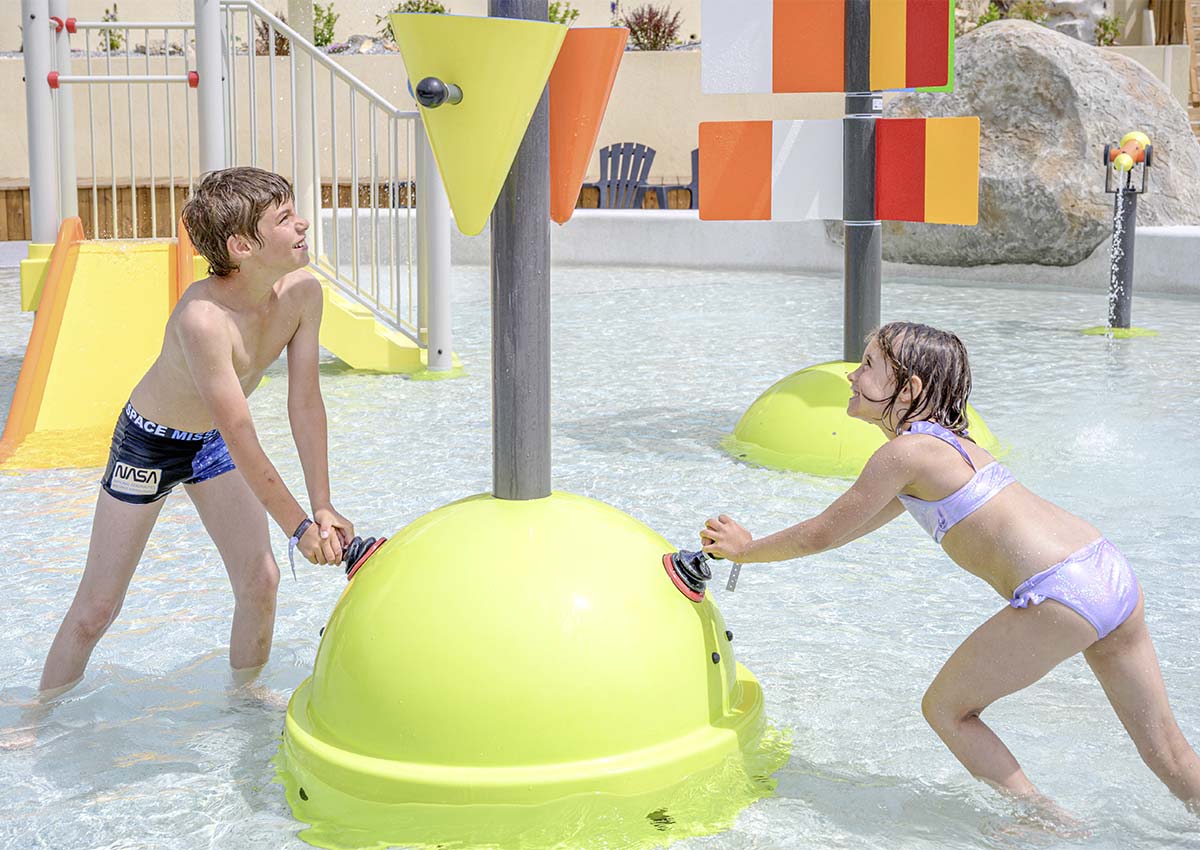 A campsite with a pool near the Gorges du Verdon is an undeniable bonus, especially if you are visiting Provence with children during the warm summer months. Book a mobile home rental or pitch for your tent or camper van at Terra Verdon and you will be staying in a fabulous campsite in Castellane with its brand new water park. You will find there is a wide variety of accommodation to choose from: comfortable pitches at the best possible price as well as mobile homes with 2 to 4 bedrooms for the comfort of the whole family! Terra Verdon really is one of the most beautiful, luxury campsites in the Provence Alpes Côte d'Azur region! Our entire team at Terra Verdon has pulled out all the stops to ensure that you enjoy your stay with us on this campsite and invites you to enjoy it's brand new pool area!
In addition to our large pool, which is 20 m long and 10 m wide, where you can swim lengths, take part in aquagym classes or water-polo, additional facilities have also been built for this 2021 season to ensure you have even more fun on your holiday in our beautiful Verdon region!
Paddle, splash around and slide into the water: that is the fun programme we are offering you! Come and immerse yourself in the heart of our superb water park where the whole family will be kept entertained and amused on holiday!
Without question, this new space will become the most popular location on the campsite where children and adults alike can gather and create happy times with their family! Everyone will love it, firstly, there is the opening of the leisure pool and its two lovely paddling pools in 2021 for young children, and in 2022 a covered pool will open where older children and adults can enjoy the water and exhilarating slides whatever the weather! Put on your bathing suit and jump into the water or, if you prefer, bring your towel and relax on a sunbed with an unobstructed view over the magnificent Roc de Castellane while watching your little ones playing in the water.
Water toys in the Gorges du Verdon
What is there for your children to do while you are sunbathing or reading your book in peace on your sunbed? Fear not, the Terra Verdon team have made every effort to ensure that your children leave with lasting memories of their camping holiday in Castellane with a pool. Teenagers, children and even toddlers will have fun with the inflatable toys located around the main pool. While splashing around and getting used to the water, they will make new friends and will love the pool at the campsite in the Gorges du Verdon which is safe and supervised by a lifeguard. If you wish to partake in water-based activities with your children, you can hire a pedalo, kayak, canoe or a stand up paddle on the Castillon Lake which is accessible from the campsite.